Back To Blog
Tips to Organize Your Home When Rightsizing Into An Apartment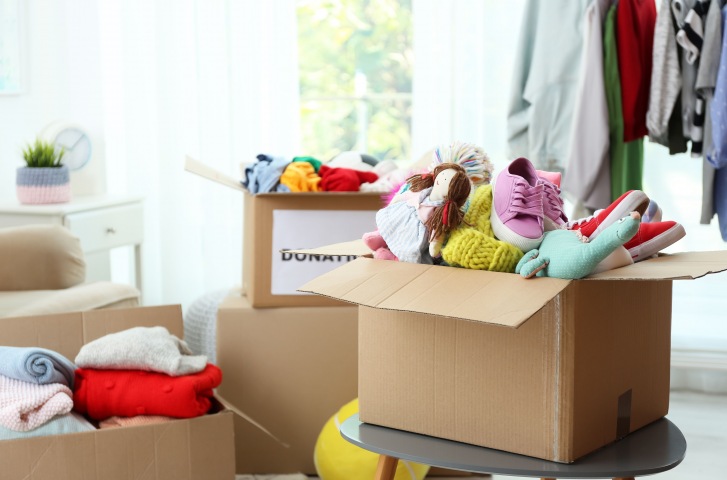 If you're like most people, you probably moved at least a few times during your life. In many cases, people decide to move into larger homes because they need more space. But once retirement is on the horizon and your kids are out of the house, your priorities are different.
Rightsizing into an active adult apartment home community is different from the ways you might have relocated in the past. Here are some of our best tips for learning how to organize senior moves so that your current home sells quickly and you make your new apartment feel like home from the beginning.
Decluttering for Rightsizing
Decluttering is an essential part of a senior move. It not only makes your current home more appealing to potential buyers, but it also makes it easier to move into your new residence. This is particularly true when you are rightsizing and must learn to organize a home that is smaller than the one you now have.
Of course, it can be difficult to decide which of your possessions you wish to hang onto, and which need to be rehomed or recycled. Here are some ideas:
Consider your new décor: Moving into a new home is a great time to reinvent your household style. Spend some time talking to a decorator or browsing through websites or Pinterest to get an idea of the design and color scheme you want for your new place. Once you know how you want your new home to look, you can more easily sort through your items and get rid of furniture, artwork, linens and housewares that don't fit your new décor.
Keep what is useful and beautiful: In most cases, it makes sense to keep the items you use regularly or seasonally. You will likely also want to keep treasured family heirlooms, antiques and art that you truly appreciate and that will work in your new place.
Quickly get rid of items you don't want or need: The trouble with decluttering is that if you don't quickly get rid of the items you don't want or need, they have a tendency to end up in your new place. Set aside a day or two for decluttering and arrange for a charity or a junk hauling company to come by and take away unwanted items.
Offer "on the fence" items to friends and family: If it pains you to throw away certain items or donate them to strangers, offer them to friends and family members. You'll feel better knowing the item is in good hands.
Consider a Deep Clean
Once you've decluttered, it's time to deep clean your home before putting it on the market. A deep clean will make your home far more appealing to a prospective buyer. This is particularly true if you have pets. You can get a good workout by cleaning it yourself, or, you could hire a professional cleaning company. To ensure that you get the level of cleaning you need, let them know you need a deep clean for a home staging.
Of course, you should also accept guidance from your real estate agent and take time to peruse the floor plan and current color scheme for your new apartment. Doing so can help you more easily transition into your new home for this next phase in your life.