Back To Blog
The Top Exercises for Older Adults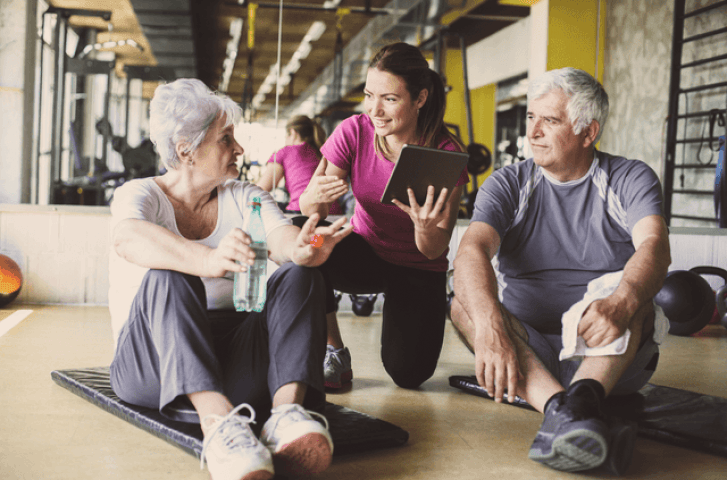 The science is clear. Most people benefit significantly from regular exercise. The benefits are also holistic: Physical fitness can provide increased muscle mass, improved balance, better cardiovascular health and even improved cognition.
Still, many seniors are reluctant to start exercising out of fear of injury, lack of knowledge of effective exercise options, or concern about the cost of special equipment or classes. Fortunately, many communities understand these concerns and offer exercise programs at low or no cost. In addition, exercise videos can provide in-home guidance for those who prefer to work out independently.
Best Exercise Types
The best exercises for seniors are typically those that are low impact and that do not require a lot of equipment to perform. Here are some options to consider:
Swimming and aquatic exercise programs: Swimming is considered by many experts to be the perfect exercise for seniors because it is low impact and places minimal stress on your joints. Even if you aren't a swimmer, you can still participate in aqua aerobics and aqua yoga classes that can help you become more flexible and improve muscle strength and tone.
Yoga: Yoga has become extremely popular in recent years, and for good reason. Not only does it offer both mental and physical health benefits, yoga positions can easily be modified to accommodate physical limitations.
Pilates: Pilates is another low impact exercise system that has achieved widespread acceptance. Many Pilates exercises strengthen your core, which in turn can improve balance. Indeed, balancing exercises for seniors are extremely important: Many seniors fear being injured in a fall. Improved balance can reduce your risk of an accident.
Walking and cycling: Walking and cycling are low impact exercises that can be done both indoors and out. All you need is good shoes, and, if you plan to cycle indoors, a high quality recumbent or upright exercise bike.
Benefits of Group Exercise for Seniors
While at home exercise has its benefits, including convenience, many seniors find that they get the most out of their physical fitness routines when they join an organized group. Not only will you have the chance to create and strengthen friendships, but you'll also benefit from the accountability that comes from meeting up with the same people every day.
In addition, if your exercise group is led by a certified instructor, you'll have the benefit of working with somebody who can help you develop a personalized training regimen. This can help you avoid possible injuries caused by overtraining or choosing the wrong exercises.
If you've been thinking about starting an exercise program, what's stopping you from getting started today? Talk to your doctor about any medical concerns you might have, and get her professional opinion on the types of exercise that are best for you. Next, check out the offerings at your local senior center, YMCA, or park district. Sign up and get yourself to your first class. You won't regret it.