Back To Blog
Why and How to Start a Walking Club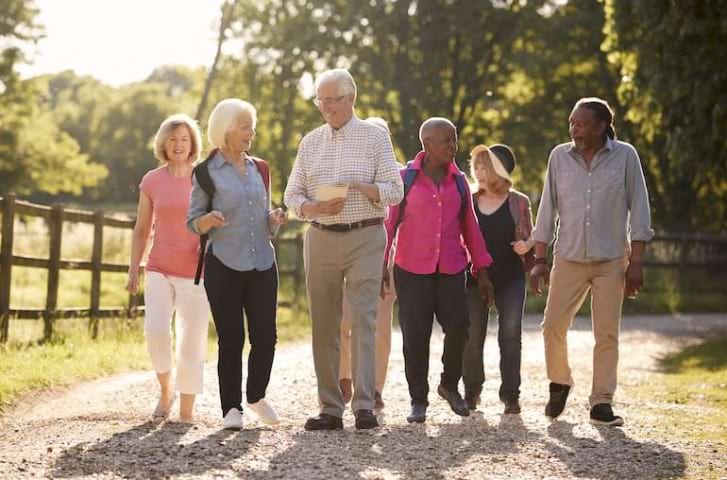 Sticking to a regular exercise routine can be challenging. In some cases, the best way to remain active is to work out with a group. Fitness groups provide camaraderie, accountability, and support. If you can't find any walking clubs in your area, consider starting your own.
Walking for Health and Fun
Many physicians and fitness experts consider walking to be one of the safest, most effective forms of exercise. It provides a cardiovascular workout without requiring special training or equipment (aside from supportive walking shoes.)
Most people, regardless of fitness level, can benefit from walking. It's easy to start at a slow pace, increasing speed and distance over time. In addition, outdoor walking can offer other benefits, including exposure to fresh air, sunshine and a chance to get to know one's neighbors
How to Start a Walking Club
Whether you are already a walker or hope to start walking soon, starting a walking club is easier than you might think. For one thing, people usually enjoy exercising together. It's also true that many individuals are looking for new ways to meet other people.
Decide on the Basics
Before you invite others to join your club, think about how you would like it to operate. Put together a basic proposal, which can always be modified later, that you can share with prospective members.
Things to cover in your club proposal include:
Length of walks: Decide how long you want your walks to last. 60 minutes will give you, and your group, a good workout, but that depends on your fitness level as well as your schedule.
Select a pace: Walking together means that your group will be walking at the same pace. While you might opt to increase the pace over time, you should start with a realistic goal, such as a three-mile walk in 60 minutes with no breaks.
Where you plan to walk: Once you know how long your walks will be, select at least one route that is safe and well-maintained. When possible, pick both an indoor and outdoor area so that your group can walk regardless of the weather. Shopping malls are good options.
Walking times and dates: Consider when you want to walk with your group. Two or three times a week might be good at the beginning.
Invite Others & Get Moving
Start by asking some friends and acquaintances to join your club. You could also try putting notices up on social media or on community bulletin boards.

Once you have the interest of a few people, get moving! Set a date and time for your first walk. Meet up, lace up your shoes and walk! The more consistent you are in walking as a group, the more quickly you'll experience the benefits of group exercise.