Back To Blog
The Cost of 55+ Active Adult Rental Living vs. Staying at Home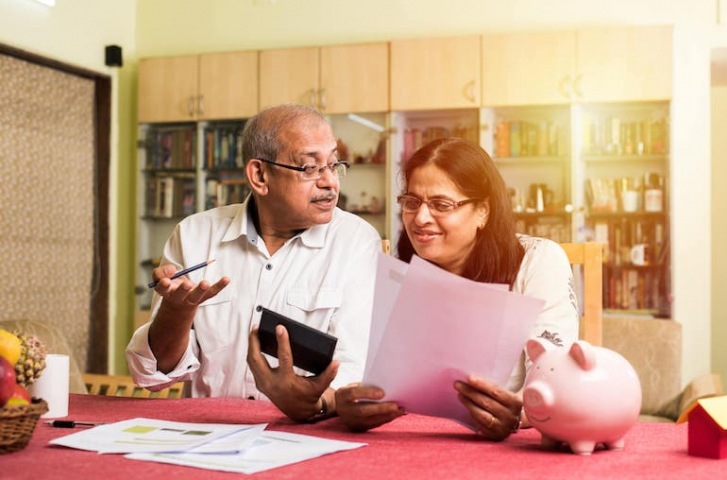 The Cost of Senior Living vs. Staying Home
Life is a list of expenses, and that list grows longer as you age. From home maintenance to doctor's appointments, your list also includes a host of responsibilities. In retirement, life is supposed to be easier, free from the confines of the many to-do's you're accustomed to. A better quality of life is available for active adults in the new and exciting world of 55+ apartment homes communities
In reality, a better quality of life in an active adult apartment home community can end up costing less than living at home. Here's why it has been worth the move – and the money – for so many active seniors.
Maintenance-Free Living
When thinking about the cost of living at home versus in a senior living community, it's important to remember the responsibilities you're leaving behind. In a active adult apartment home community, you avoid the cost and labor of:
Mowing the lawn and landscaping

Home repairs (roof, water heater, driveway repaving, etc.)

Trash removal

Snow removal

Food preparation and nutrition tracking

Transportation and vehicle upkeep
At an innovative Everleigh community, navigating through your day is easy, carefree , and full of enjoyable activities such as bocce ball, yoga, horseshoes and more – not stressful, expensive duties.
Reliable Budgeting
Living at home comes with many unpredictable expenses and fluctuating responsibilities, which often lead to full dependence upon family members and friends for support.
Calculating your budget can be stressful when you don't know what the next week, month, or year holds in terms of finances, especially when it comes to property taxes and utility bills. This is where the comparison is stark between life in a 55+ active adult community and life at home.
In an active adult apartment home community, you are given a set monthly price at the beginning of the year so that you can reliably budget for your all-encompassing expenses. Most, if not all, expenses and amenities are worked into that monthly fee. By living in an active adult community, you will avoid having to budget for:
Property taxes

Homeowner's insurance

HOA fees

Primary groceries

Entertainment

Art and Educational Classes

Pool and Spa Upkeep

Gardener

Ongoing Home Maintenance and Repairs

Gym membership
Many active adults 55+ will take the equity from their paid-off home and use that to trade a high-maintenance life for a financially stable situation full of self-growth and happiness. Experience life to the fullest and get the most out of your living situation – not the other way around. That's how Everleigh sees retirement.
Amenity-Rich Lifestyle
On top of your basic needs being met, an active adult community supports your passions and provides levels of luxury that help you enjoy this new chapter of life. With your consistent monthly fee, you receive the essentials of nutrition, transportation, living, and more. You're also provided lifestyle amenities such as:
· Fitness centers and classes
· Entertainment
· Social hours
· Enrichment classes
· Coffee, tea, and continental breakfast
· Guest lounges and common areas
· Outdoor grills and cooking areas
· Discounts on local hotel rooms for family
· Salons, spas, and cafes
· Financial resources
· Goal-setting sessions
· Beautifully updated apartment homes
Active adult community life is designed to free you up to do what you love without sacrificing your quality of life. The list of amenities can go on, tipping the scale in favor of affordability and worth.
Quality Health Component
Health is always a top priority, especially as time goes on. Active adult communities with our Everwell 7 Dimensions of Wellness program, you will have th opportunity to partake in classes, activities and events that support whole person wellness.
Features of a health-focused community include initiatives and programs such as:
Nutrition classes

Health goal setting

Exercise classes

Exercise resources and equipment

Mindfulness and meditation

Self-improvement
Social and Self-Connection
At our core, humans value connection with one another through friendships, family, mentors, and acquaintances. Social connection has had a proven impact on mental health, boosting brain function, and lowering the risk of dementia. It also increases self-esteem, sharpens brain activity, and stimulates the parts of the mind responsible for joy.
When living at home in retirement, it's hard to get that much-needed social interaction, making it easier to withdraw from the outside world. In turn, it's easy to lose touch with yourself and your personal journey. In an active adult community, you will find a genuine connection with others through common interests, activities, and campus life.
If you had to put a price on that, wouldn't you want it to be reliable and take care of all your needs?
Get a Closer Look
Every situation is unique, and that means it's important to look closely at your personal expenses as it compares to life in a 55+ active adult community such as Everleigh. That's why we created a cost-of-living calculator to give you a better idea. Contact us today to talk about your future and allow us to personalize a cost plan for you. You deserve a sense of freedom and belonging with meaningful encounters and a dynamic lifestyle.