Back To Blog
What Are the Health Benefits of Being Social?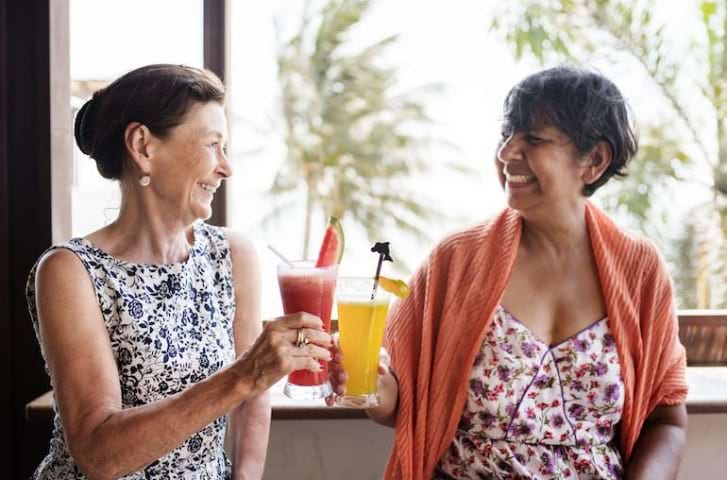 One of the cornerstones of wellness and healthy aging is developing and maintaining strong relationships with others. When older adults work to meet new people, spend time with others and nurture relationships, they benefit in multiple ways.
Aging and Social Interaction
The importance of social interaction for people of all ages cannot be overstated. Still, some people mistakenly believe that maintaining strong relationships with others is less important for older adults than it is for younger people.
While it is true that older adults can face social challenges, particularly after spouses, friends and family members pass away, or adult children relocate to distant towns, this does not mean that a life without close, meaningful relationships is inevitable. Older adults are often part of vibrant social networks that provide fun, support and ongoing engagement with others.
Social Isolation and Health Risks
Social interaction and strong personal relationships benefit older adults physically, mentally, emotionally and spiritually. Research shows that when seniors don't have positive relationships with others, they are more likely to become depressed, have high blood pressure, and lead sedentary lifestyles.
Health Benefits of Being Social
When older adults do have strong friendships and regularly socialize with others, wellness benefits can be remarkable. Socially active seniors report greater life satisfaction, lower their risk for dental health problems, and lower blood pressure. There is also evidence that a strong social life may reduce the risk of Alzheimer's disease, heart problems, cancer and autoimmune disorders.
Socializing Within Your Community
Social media, phone calls and email are excellent ways of staying in touch with friends and family who live far away. Still, these interactions are no substitute for an active social life with people in your community. If you've neglected to develop and maintain local relationships, it's never too late to start.
Here are some ideas:
Find and join a local senior exercise group or walking club

Volunteer at a local charity

Join a political campaign

Get involved with a faith community
Renewing Relationships
Of course, it's also important to nurture relationships that you already have. For example, if you have friends or family members you don't see as often as you'd like, make a point of contacting them and setting up a date to get together. Invite people over for dinner and ask friends to join you when you go out to see a movie, play or concert. As you increase your efforts to connect with others, you'll find that others also reach out to you more often.