Back To Blog
The Benefits of Move-In Ready Apartment Homes in Active Adult Communities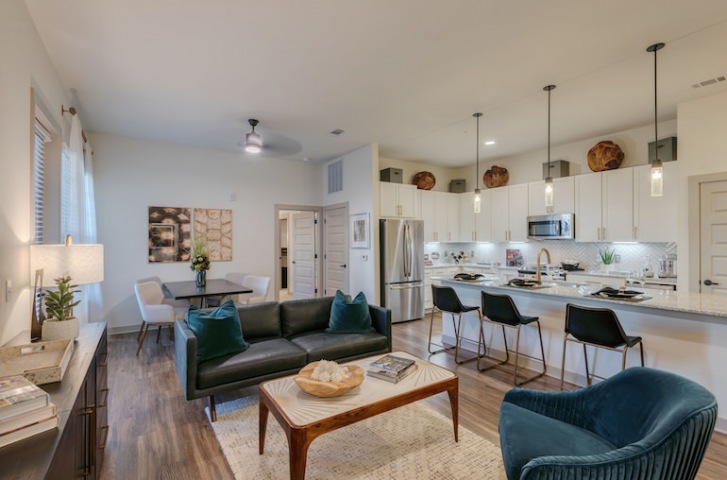 Right-sizing is a big step, so it makes sense to want your move to be as stress-free as possible. Many active adult apartment communities offer the benefit of right-sizing directly into a move-in ready home, reducing the need to hire contractors or negotiate with sellers before you can settle in. If you prefer to avoid the work of remodeling and repairs during a move, consider choosing a senior community that provides move-in ready units.
What Is an Active Adult Community?
An active adult community is an age-targeted community for people 55 and up who want to enjoy an active, independent lifestyle. These communities often provide resort-style amenities to residents, including fitness centers and classes, swimming pools, putting greens, community centers, and enrichment activities. Residents live in their own homes and manage their own health and personal care needs.
All active adult communities are comprised of individual housing units, which may include apartments, condominiums, townhomes, single-family homes or a mix of these. In addition, these homes may be either owned or rented by residents.
What Does Move-In Ready Mean?
When we say open "move-in-ready," we mean a home that does not require you to make updates or renovations to make your home attractive, safe, and livable before settling in. The paint and floors are fresh, appliances are modern, and the property itself is updated and well-maintained. You won't have to worry about "surprises," such a hot water heater that needs replacing or inefficient kitchen appliances that drive up your electric bills, when you choose a move-in ready home. From day one, you'll be able to relax and enjoy your new community.
Are Active Adult Community Residences Move-In Ready?
Some are, some aren't. In communities where residents own their homes, units may not be ready for immediate move-in because the owners haven't maintained the interior or exterior of the property. In addition, while many of these communities provide landscaping of front yards and common areas, residents are often required to handle back yard landscaping themselves. As a result, buyers may need to work with sellers to ensure that improvements are made before closing. An alternative is to agree to purchase the property, then spending weeks, if not months, getting the place back into shape.
In active adult rental communities, things are different. Interior and exterior maintenance, as well as landscaping (both front and back yards), are handled by the community's own maintenance people. In addition, interiors, including appliances, are serviced and updated as well. This option offers maintenance-free living for current residents and ensures that units are move-in ready for new renters.
Making a Decision
Everyone's needs are different, so it's often a good idea to take your time and crunch some numbers before choosing a residential community. For example, when constructing a housing budget, it's important to include move-in costs, which may include professional cleaning, repairs, new paint, the replacement of appliances, and updates to building systems. You might find that renting a move-in ready apartment in an active adult community offers a better value than buying a new residence. If this option interests you, schedule a tour of your nearest Everleigh property today.