Back To Blog
How to Cook Your Way to Better Health Over 55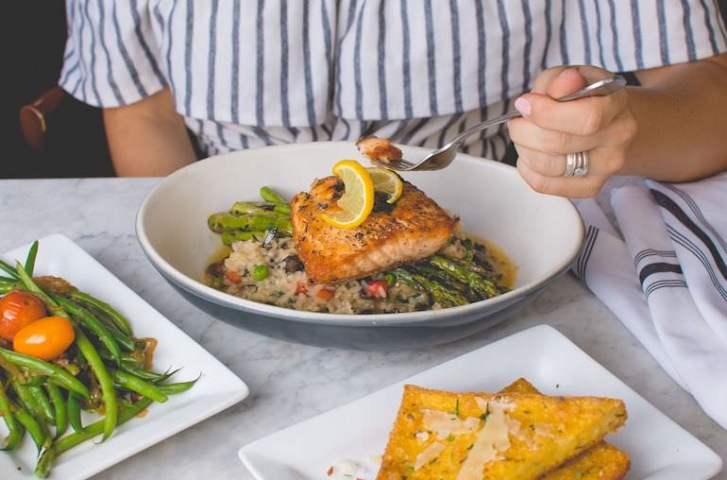 Nutrition is important at any age, but nutritional needs change with time, as do metabolism, taste, and lifestyle. This means that habits should evolve with time as well. For active adults 55+, it becomes more important to focus on heart, bone, and brain health, which can be improved by eating certain foods high in calcium, vitamin D, vitamin B12, healthy fats, fiber, and potassium. It also means eating less sodium, sugar, and unhealthy fats.
To eat, enjoy, and digest food in the healthiest way, seniors should focus on what they're cooking and how they're cooking it. Here are some tips on how to adjust your cooking to make sure you're getting everything your body needs and avoiding what it doesn't.
Use Less Salt
With age, taste buds tend to lose their luster, which means you're more likely to add more salt to your dishes. However, too much sodium can have a negative impact on the blood pressure of adults 55+, as well as increase risk for heart disease, kidney damage, and stroke.
You can cook healthier by taking salt off the table – literally. When you're eating out, this is harder to control, since you aren't the one putting the ingredients together. But when you're in the kitchen, avoid adding extra salt or overusing products such as soy sauce and other sodium-packed condiments. Go for the low-sodium or sodium-free versions of these items, and make use of seasonings such as garlic powder, onion powder, paprika, pepper, and fresh herbs instead. Lemon juice and olive oil can also be quick taste-enhancers.
Salt is in so many things you may not even think about, which is why it's important to pay attention to labels at the grocery store. Processed foods including canned vegetables, canned soups, certain processed meats, instant pasta and noodles, chips, and salted nuts are all examples of sodium-packed foods seniors can do without to maintain their organ health.
Go for Low-Fat Alternatives
For active adults over 55, it's important to consume minimal unhealthy fats. In particular, eating too many saturated fats and trans fats can increase your risk of heart disease. However, good fats (aka monounsaturated and polyunsaturated fats) are OK. These can be found in fish, nuts, and vegetable oil.
Every recipe can have a low-fat version. When you're choosing your ingredients or what you want to keep in the pantry, make the transition from high-fat items to their low-fat alternatives. For example, if you cook with oil, try using sprays instead, or use a pastry brush to help you minimize the amount of oil you cook with. As an added tip for sautéing, put the vegetables in the pan first, then add the oil. That way, the contents are absorbing less. Liquids, such as stock, wine, vinegar, and water, also serve as decent alternatives to oil.
For soups or sauces, avoid using heavy cream, which is high in fat. Instead, go for ingredients such as low-fat yogurt, low-fat milk, evaporated skim milk, and cornstarch. Flavorful sauces are hard to give up, so instead of weighing them down with butter and sour cream, try substituting them for pesto, salsa, and vinegars. These are just as flavorful and much healthier.
Use Non-Stick Cookware
Yes, healthy cooking applies to your cookware as well. Not only do non-stick pans make the cooking process easier, but they make it less necessary to use lots of oil. Non-stick pans also resist acids more effectively and won't react to certain acidic foods, like tomatoes, the way other types of pans do.
Don't Cook Out the Nutrients
It's very common for people to overcook ingredients to a delicious level. The problem? They're cooking out all the nutrients, and seniors deserve all the vitamins and minerals they can get to support their bone and heart health. To make sure you're retaining the vitamins and minerals, try scrubbing vegetables rather than peeling them. Tons of nutrients can be found in the skins of your favorite veggies.
Instead of boiling ingredients, try steaming, baking, grilling, or microwaving. If you do prefer boiling, use minimal water and avoid overboiling. Stir fry dishes are healthy go-to meals during the week, with plenty of vegetables that retain their crunch and vitamins. Plus, these dishes are quick and easy to make – something active adults 55+ need so they can focus on their hobbies, relationships, and reaping the benefits of retirement in their upscale apartment home community.
Eat More Fish
It becomes more difficult with age for the body to process protein efficiently, which is why it's even more crucial to implement a protein-rich diet if you're a senior. Protein helps maintain muscle mass, strength, bone health, and other essential functions.
Of all the avenues for consuming protein, fish is your best option. It's not only high in protein but it's low in fats and loaded with omega-3 fatty acids, which offer better heart, eye, and brain health. Fish is adaptable, and you can get really creative with sides and sauces.
For even more protein, adults 55+ can take supplements or add protein powder to the meals they cook.
Incorporate Plant-Based Ingredients
Nuts, seeds, and beans are great additions to any dish. They provide protein and beneficial plant-based fats that have been shown to help reduce health risks, such as heart disease. Packed with minerals and vitamins, a plant-based diet rich in whole grains, fruits, and vegetables tastes good and makes you feel good.
Plan and Prep Your Meals
When in doubt, plan ahead. Cooking requires a little bit of planning, and meal prepping can save you time and stress later on while keeping you from eating the unhealthy alternative: fast food. Thinking ahead and planning out your grocery trip also gets you more involved in this independent process, which can be a fun way to challenge yourself and your skills.
As an active adult living in an Everleigh apartment home community, you'll experience ease when cooking meals in your luxurious kitchen with a large kitchen prep island, quartz countertops, under-cabinet lighting, and full stainless steel appliances. You'll feel like a chef in the comfort of your own apartment home.
Serve Up Smoothies
Another way to get your nutrients fast is by making smoothies – and not the kind packed with sugar. You want to keep your smoothies more natural and filled with vitamins. Smoothies are convenient because there are endless combinations of ingredients you can blend up, and you can add nutrient boosters such as spinach, kale, and chia seeds to most recipes. Don't worry: Leafy greens may change the color of your smoothie, but they won't change the taste. If you'd like to use a smoothie as a meal replacement, try adding a scoop of protein powder to any combination you create.
Ask for Advice
Before you make any major changes to your cooking choices, consult with your physician to make sure you're incorporating ingredients that go with your personal health-related circumstances. Everyone is different, and bodies require various levels of vitamins and minerals. As you cook your way to better health, be open to learning more about which foods are best for your body.
Continue Your Cooking Education
Explore your potential and express yourself by taking a professional cooking class. Use cooking as an avenue to creativity while satisfying your taste buds at the same time. Many apartment home communities for active adults over 55 allow you opportunities to hone your skills while expanding your interests and relationships. Everleigh's chef-led cooking classes are set up for you to step out of your comfort zone and into the kitchen.
In retirement, you deserve to feel your best, and that means making sure you're cooking up the healthiest meals for you. Remember to include ingredients low in sodium and unhealthy fats, and focus on incorporating vitamin D, vitamin B12, fiber, protein, calcium, and potassium. All of these will help you maintain muscle mass, strength, brain health, heart health, and bone health. Live your best life and cook your best dishes with these tips in mind.